Dominion Aquaculture's initial product offering is fresh, branded, domestically raised, premium quality, tilapia fillets.
Product Line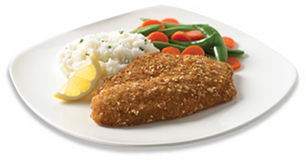 Dominion Aqua's first facility is designed to produce and deliver fresh fillets of tilapia fish to the domestic US market. Tilapia is a mild flavored white fish with delicate taste and texture, that has developed a broad and growing market appeal to the US consumer. Tilapia is now the 4th most consumed seafood in the US. Our unique technology and vertically integrated design allow us to offer quality, biosecurity and traceability that is unmatched by traditional tilapia production systems.
In this, our patented production technology and vertically integrated facility design achieve a level of quality, consistency and bio-security that is unmatched by the more traditional tilapia production systems of our exporting competitors.
In addition, once the launch of our fresh fillet program, "hits its stride," follow on, value-added product offerings, already in development at Virginia Tech's new food science laboratory, will be introduced. These additions are being designed specifically to add strength and breadth to our to our product line and brand.
Details on these new products will be made available in the near future.